2019 Nissan Murano vs 2019 Chevrolet Blazer
July 31 2019,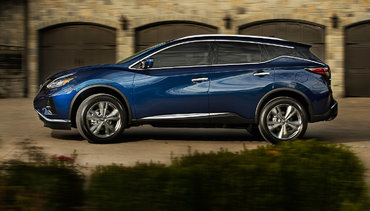 The Nissan Murano has always been recognized as the leader in comfort in its segment and things have not really changed over the years. Refined and quiet, it features Zero Gravity seats that accentuate the comfort by reducing pressure on the body's points of contact. The Murano has always looked and felt more luxurious than the price suggests and with the changes made in 2019, the trend is expected to continue.
However, the Murano has a new competitor this year that includes the new 2019 Chevrolet Blazer. If we are in the market for a five-passenger SUV, it would be perfectly normal to try the Murano and the Blazer. What we will notice during this test is that the Murano is the most comfortable of the two. No matter which car publication you read, you will see that experts see the Murano as the most comfortable mid-size SUV in its segment, or at least one of the most comfortable. This is not the case with the Blazer, which relies a lot more on a firm suspension to ensure better handling.
Under the hood, the 2019 Nissan Murano is powered by a 3.5-liter V6 engine that develops 260 horsepower and 240 pound-feet of torque. This engine is missing some horses compared to the V6 found in the Blazer, but on paper the performance is similar. Accelerating from 80 km/h to 120 km/h, a good indicator of passing performance, takes the same time in the Blazer and the Murano. On the other hand, the average fuel consumption rating of the Murano is greatly reduced compared to the Blazer.
In a recent test, the 2019 Chevrolet Blazer posted an average fuel consumption of 12.4 liters per 100 kilometers while the Murano finished with an average of 11.1 liters per 100 kilometers. This is a significant difference. Let's also mention that the Murano offers 1,121 liters of cargo capacity with all the seats in place while the Blazer can do no better than 864 liters. That's a difference of over 200 liters which is significant when we are looking for versatility in our SUV.
More spacious, fuel-efficient and more comfortable, the 2019 Murano is for pragmatic buyers. For more information, contact us today at Jonker Nissan!