2019 Nissan Murano: Where refinement and luxury meet in a utility vehicle
August 28 2019,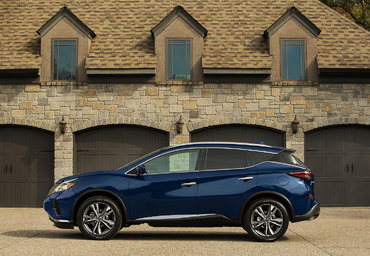 Did you know that the Nissan Murano, launched in the early 2000s, essentially created what we know today as the crossover utility vehicle or CUV? What was and remains so groundbreaking about the Murano is that is seamlessly blends the best attributes of a luxury car and those of an SUV.
The Nissan Murano borrows the tall driving position associated with vehicles such as our own Nissan Pathfinder SUV. It also features a large cargo area and an impressive amount of room for all passengers. Everything else about the Murano is inspired by the refined nature of a luxury sedan much like the Infiniti Q50.
What is most noticeable about the Nissan Murano is how distinct it looks. In its midsize utility vehicle segment, it stands out as a most elegant and unique vehicle. The Murano's profile is a far cry from the cookie-cutter lines found on most of the competition. The Nissan signature V-Motion grille sits prominently up front and invites the eye to sweep rearward towards our distinct floating roofline. There is nothing else like it.
Onboard, we've turned up the charm. The materials and overall design could be lifted straight from a vehicle retailing for twice as much money. The ergonomics are enhanced by the standard 8-inch touchscreen monitor and 7-inch drive-assist display. Nissan Connect which includes Apple CarPlay and Android Auto, along with satellite radio, are all standard.
One of the Nissan Murano's highlights is the way it drives. Its level of comfort is unmatched in the segment thanks to its fully independent suspension. The Murano seems to glide over rough surfaces, once more reminding us of a luxury sedan.
The standard-fare 3.5-litre V6 generates plenty of power for all driving situations. It produces 260-horsepower and 240 lb.-ft. of torque. It is mated to our latest generation Xtronic CVT transmission which is seamless in its operation and AWD is available. For a midsize utility vehicle, it is also quite fuel efficient as it is rated at 10L/100km in mixed driving conditions.
The Nissan Murano continues to innovate and to sway SUV buyers with its unique styling and impressively refined driving characteristics. If you're not convinced, come and try one out for yourself.