2019 Nissan Rogue: The Ideal Crossover
May 31 2019,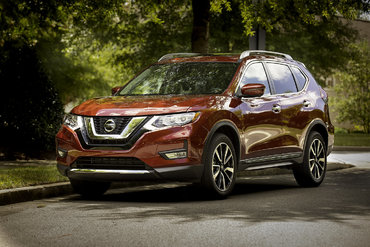 Nissan's Rogue, one of the best-selling crossovers in Canada, returns for 2019. And Nissan can rest easy knowing they were one of the first to the game with Rogue generations under their belts built on improvements and evolution, making this latest iteration better than ever. Loaded with safety features, amenities, and one of the segment's quietest cabins on the road today, the 2019 Nissan Rogue is not to be missed.
The 2019 Nissan Rogue remains largely unchanged from the previous year in terms of exterior design. It features the manufacturer's signature V-Motion grille, ensuring that the Rogue's family resemblance is ever presence, and that the crossover is well placed in the automaker's lineup.
You can outfit your 2019 Nissan Rogue with leather-wrapped power adjustable heated seats (along with the steering wheel), power moonroof, and there's even an available 9-speaker Bose sound system. Said options can be attained by selecting the range-topping SL Platinum with ProPilot Assist.
And while we're on the topic: For 2019, Nissan's ProPilot Assist is slightly upgraded from the previous model year. Where the 2018 Rogue simply featured lane-keep assist and mitigated braking, this 2019 version is programmed to keep you on the right path – even between the lines when the road curves – and this version of ProPilot is also programmed to bring the car to a slow halt if the driver becomes incapacitated and is no longer able to hold the steering wheel.
The 2019 Nissan Rogue is equipped with a 2.5L 4-cylinder engine that produces 170 horsepower. It's paired with a CVT that helps achieve better fuel economy.
You'll find 1,112 litres of cargo space in the rear without the rear seats folded down in the 2019 Rogue. And if you fold those down, the interior space jumps to 1,982 litres. The 2019 Rogue features Nissan's Divide-N-Hide storage system that allows the crossover to be configured in 18 different ways to accommodate a host of different items in the rear.
To find out more about the 2019 Nissan Rogue and all it has to offer, head down to your local Jonker Nissan to speak to one of experts, and don't forget to book a test drive, too.