2019 Nissan Titan: Rising to the Top
June 21 2019,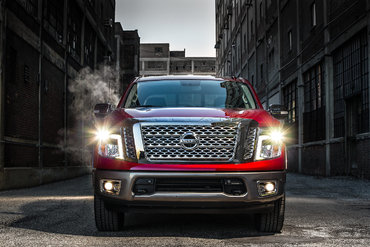 The Nissan Titan arrived (after a short hiatus from the automotive world) to the truck scene a few short years ago to stir things up a bit (in a good way), tackling a segment already rife with models well established and loved by truck drivers everywhere. While the Big Three hold the top pickup truck spot, and have done so for decades, the Nissan Titan is well worth considering if you're in the market for a hardworking, good looking truck.
Despite the 2019 Nissan Titan remaining largely unchanged from the previous generation, one thing to note is that for this model year Nissan has introduced a partnership with Fender audio system. That means they have equipped their larger-than-life pickup with an equally large audio experience. You'll also find an upgraded entertainment system that now has a standard 7.0" colour touchscreen (to replace the previous 5.0" screen), along with Apple CarPlay and Android Auto available across the board.
One features that really stands out about the 2019 Nissan Titan is the massive mesh front grille. This design feature gives the Titan some serious personality on the road, even when it's parked. The best thing about the Nissan Titan is that it doesn't just look big and capable, it can also get the job done, too
Regardless of cab configuration (Single, Crew or King cab), you'll find a spacious and well-appointed interior available in either cloth or leather in your 2019 Nissan Titan. You'll also find knobs and buttons that are large and easy to manipulate (even while wearing gloves) to control the HVAC and entertainment functions.
The 2019 Nissan Titan features the same engine throughout its body-style/amenities lineup: a 390-horsepower 5.6L V8 engine that also offers up 394 lb-ft of torque. Power is controlled via a 7-speed automatic transmission. The Nissan Titan also offers a switch-operated 2-speed transfer case 4WD.
If it's heavy lifting and towing you need your Nissan Titan for, then we've got good news for you: the Titan has a max towing capacity between 9,000-9,200 lbs (depending on model chosen), and has a max payload between 1,323-1,543 lbs (again, depending on model chosen).
To find out more about the 2019 Nissan Titan and all it has to offer, head down to your local Jonker Nissan to speak to one of our experts. And don't forget to book a test drive, too.